Last November I created Intune Linux Custom Compliance script and it has been running few months now without any problems.
There are new custom checks compared to original version so I updated script to my GitHub site.
GitHub page has more documentation on how script works so go and check that out. Linux Custom Compliance script on my GitHub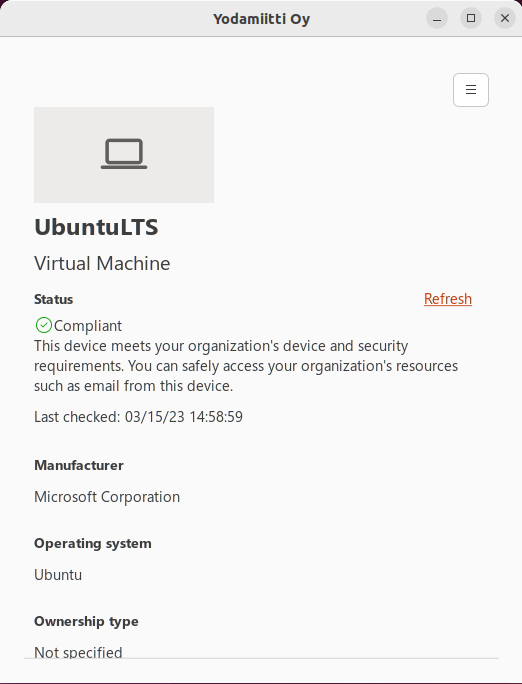 Bash script includes Powershell script inside which will do the actual compliance checks so prereq is to install Powershell. And why wouldn't you install Powershell to your Linux anyway ?-)
Custom Compliance checks in this version:
Powershell is installed
Powershell version

7.3.3 minimum currently configured in json

Reboot Required check

file should not exist /var/run/reboot-required)

MS Edge

Check MS Edge is installed

file should exist /opt/microsoft/msedge/msedge

Check MS Edge version

Kernel version

Check Kernel version
5.19.35-generic minimum currently configured in json
Check Kernel patch level
Check Kernel flavour
Check Kernel tainted state

SecureBoot status

require SecureBoot configured in json

sysctrl values (placeholder to check any value)
gsettings values (placeholder to check any value)

org.gnome.desktop.screensaver lock-enabled
org.gnome.desktop.screensaver idle-activation-enabled
org.gnome.desktop.session idle-delay

10 minutes currently configured in json

Defender for Endpoint on Linux status

MicrosoftDefenderForEndpointOnLinux_Installed
MicrosoftDefenderForEndpointOnLinux_RegisteredToOrganization
MicrosoftDefenderForEndpointOnLinux_Healthy
MicrosoftDefenderForEndpointOnLinux_DefinitionsStatus_up_to_date
MicrosoftDefenderForEndpointOnLinux_real_time_protection_enabled
In Non-Compliant situation Intune Company Portal shows clear message which custom compliant check is out of compliance. You can customize messages and url's in .json configuration file.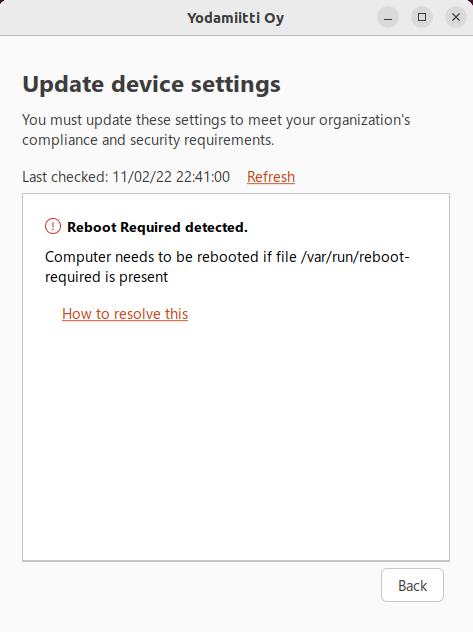 Go to my GitHub site for the files and more documentation.
I'm happy to hear your feedback and ideas for other custom checks to implement to this script :)